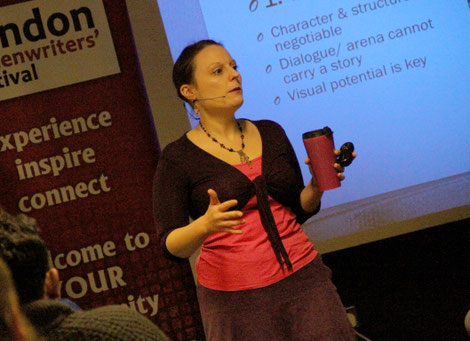 'Lucy is fantastic, great energy and obviously extensive practical knowledge'
James Pepperday, Writer


'Taking this course is a no-brainer. I learnt more in the first 2 hrs than I have in all the other script reading courses put together.  Lucy is a powerhouse, clearly knows her stuff and communicates with passion and sincerity'.
Erick Kwashie, Filmmaker


'In order to be a good writer you have to be a good READER! This course was full of great discussions on concept, characters and real conflict.  I'm happy that you guys bring in people who know what they're talking about (that rarely happens anymore!)'.
Laura Goetz, Writer


'Lucy is a really great trainer, she held my attention and interest all the way through.  I left both days feeling motivated and enthusiastic'.
Fiona Woof, Writer


'I came for information into something I knew nothing about (Script Reading) and left with a comprehensive 'How to..' for a whole new job!  Plus practical ways to hugely improve my writing'.
Allie Croker, Actor & sometime Writer


'Lucy is a fountain of script knowledge. I feel I have learnt more in two days that I did at University and now know what I want to do when I grow up!'.
Jo French, Production Manager, Writer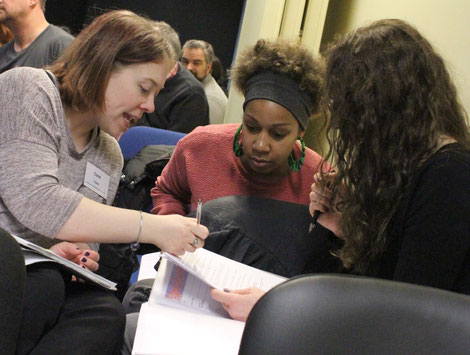 'Understanding how script readers assess screenplays will save me months of work and tons of heartache. Lucy is a script reading Jedi!'.
Andrew Williamson, Writer
'This course has been eye opening in terms of how the industry works and what readers look for. I have the confidence and clarity now to undertake the next step towards a career as a reader and writer'.
Chelsea Thompson, Writer
'I came to the course thinking I was here to become a script reader, when I have found that it has further affirmed my love for screenwriting and that this is where my heart is'.
Lois Zoppi, Screenwriter & Theatre Critic
'Lucy is brilliant, insightful, bombastic and approachable. I totally trust her views and will take on board her teachings; very knowledgeable and a cool woman!'.
Claire Teare, Script Reader
'Lucy's motivation, knowledge and no nonsense approach to this workshop was the kick up the butt I needed. Thank you!'
Jennifer Stemp, Writer
'Lucy will change the way you read and write; this course is just as good value for writers as readers, and directors and producers too. Incredible value for money'.
Mischa Purnell, Aspiring Development Assistant & Filmmaker
'Great workshop!  There is a lot of material that informs and supports the process of breaking into the script reading industry'.
Sam Humphreys, Actor & Writer




'For me this class clearly knows why, as a screenwriter, you must read a lot and know what's come before in order to break new ground'.
Sunny King, Filmmaker


---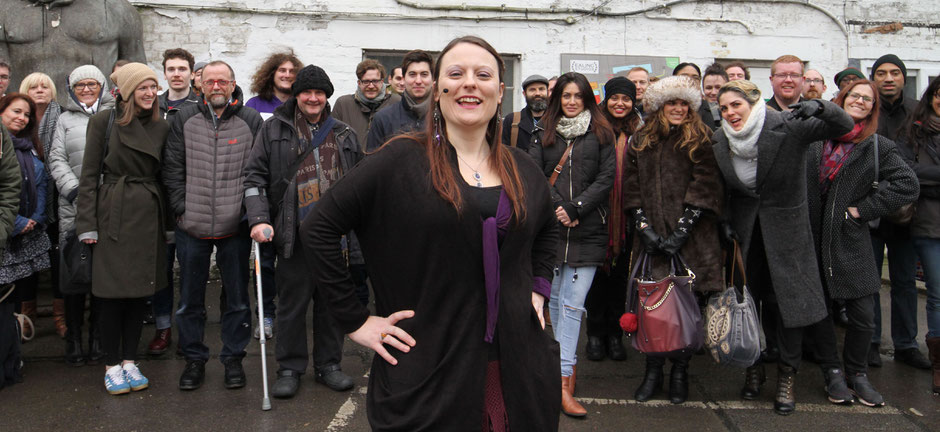 'Lucy is hilarious, incisive and just plain brilliant…the arse-kicking superhero of screenwriting!'
Jade Syed-Bokhari, Filmmaker
'As a writer I felt inspired and more sure of what was expected from my work.  As a potential script reader, I discovered that there was a lot I could do straight away to improve my ability, as well as the possibility of finding work'.
Bhairavi Patel, Writer/Script Supervisor
'Lucy was great!  She's one of my new heroes!'
Shabazz Graham, Filmmaker
'Stimulating!  Fun!  Inspirational!'
Chris Lakeman Fraser, Filmmaker
'A fantastic weekend packed with useful and actionable information from a script expert, I would highly recommend this course'.
Clare Wilcox
'I made a dozen brilliant connections with like-minded people and industry people who I hope will be invaluable in the future'.
Chris Sutcliffe, Writer
'I now know exactly how to structure a report and what areas of it I need to improve on.  I also have more confidence in contacting industry professionals.
Alizee Musson, Writer
'An engaging, interesting and exciting insight into a role I hadn't realized was so important.'
Hannah Mark, Student
'Lucy's knowledge and energy is inspirational!'
Vera Mark, Writer
'The course content really helped clarify what I need to do with my own scripts to make them stronger.  Also it revealed the logical stepping stones for career progression if you want to work in the script development/editing industry'.
Jennifer Kildee Murphy, Screenwriter
'Wonderful to have two whole days out of your writing life to reconsider the story writing process.  It could change the way that I approach writing forever!'
Hannah Piekarz, Writer
'After one day of learning from Lucy, I found my first company looking for readers!  This course is amazing – it does exactly what it says on the tin'.
Stuart Williams, Writer
'Lucy Hay takes no prisoners! Never mind fast and furious, Lucy is faster and furiouser!'
Kerry Reynolds, Writer
'Lucy is a powerhouse of energy and knowledge, very impressive!'
Natalie Ekberg, Screenwriter
'Lucy's excellent advice has really improved my understanding of what readers look for in a script, which will help massively as both a Script Reader and also a Writer'.
Simon Harper, Writer
'I feel equipped with the tools to further pursue Script Reading and excited by the possibilities and opportunities ahead'.
Maddy Brook, Casting Assistant/Assistant Producer
'I have found that learning what a reader is looking for has made me re-focus on making my own writing more 'industry relevant''.
Michael van Koetsveld, Writer/Director/Editor
'Lucy knows her stuff and gives it to you damn straight.  But she also really cares about you and your baby – you're in good hands!'
Declan Hill, Producer/Writer
'Mind-opening weekend with great guests.  Lucy is a fabulous communicator and really knows her stuff.  If you haven't taken this course – do it!'
Simon Wright, Producer
'I wrote a micro-script on my way home after day one!'
Suzie Chadwick, Writer

'It doesn't matter who you are, this course gives you confidence that Script Reading/Editing can be a part of your future'.
Christopher Hewitt, Screenwriter/Director
'I'm ready now! This course is the perfect stepping stone from university to the real world of film and television. Recommend!'
Elzbieta Kotze, Screenwriter
'This was a really illuminating, fascinating two days. Lucy definitely knows her stuff, is clearly passionate about reading and explains everything in easy to understand terms'.
Nick Kirby, Screenwriter
'I met loads a great and interesting people, it was a fantastic networking opportunity'.
Sarah Minchin
---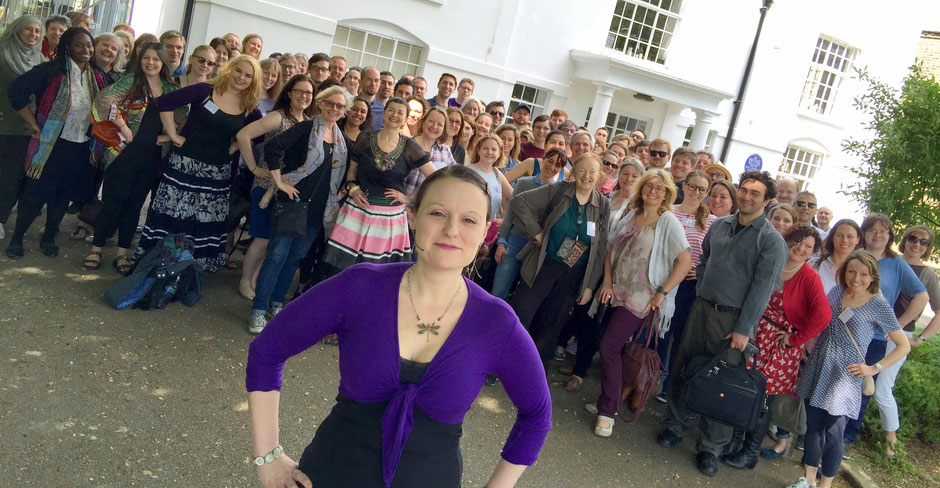 'Lucy Hay - Warrior Mom!'
Bryony Quigly, Writer
'Awesome event that equips you to provide professional feedback and PASS-proof your own work. Great fun!'
Adam Spring, Writer & Director
'A fabulous course that teaches you the essence of script reading and more about the industry.'
Lanna Hussain, Writer
'I can highly recommend the course, as for an insight into the work of a script reader. Also helpful to writers beginning scriptwriting.'
Natalie Johal, Writer & Film maker
'Not a PASS. Nor a CONSIDER. Definitely a RECOMMEND!'
Roberto Gomez Martin, Writer & Director
'This is a NOT TO BE MISSED workshop for screenwriters and readers - novelists too, I think. I have learned so much this weekend and I am filled with optimism. Lucy is funny, extremely knowledgable, and blunt. No beating about the bush here. Superwomen!'
Valerie O'Doherty, Novelist & Screenwriter
'Lucy is a Force of Nature!'
Elsa Evripidou, Writer & Producer
'I've spent years explaining how English works by uncovering the '"why" behind the rules. This course has inspired me to do the same and make my writing better by understanding '"why" the stories work - from a reader's, or even producer's perspective.'
Phil Williams, Writer
'Lucy is a hurricane of passion and explains the realities of screenwriting and reading, as well as how the industry works with refreshing clarity. Fantastic workshop for writers, readers and filmmakers.'
Dorothee Kuepers, Writer
'A good kick up the arse!'
Claire Roy, Writer
'A great opportunity for aspiring writers to see the mistakes that derail scripts and learn to avoid them.'
Nick Jackson, Writer
'I didn't realise how many opportunities and avenues there were for potential script readers until yesterday.'
Nick Harrison, Screenwriter
' This course had completely changed my ideas on how to give feedback, and what to look for with reader reports.'
Amy Livingstone, Writer & Librarian
'I've  been to many courses/workshops that often undermine my insights as a writer, but Lucy - in a concise and constructive way - has informed me how to empower myself, produce the best work possible and GET IT SEEN!!! Learned more from Lucy's weekend workshop than I did over the course of my degree. So, if you want to save £9000…'
Tahlia McKinnon, Writer
'I came up with  a fabulous spontaneous short idea and got 3 people to join me in trying to make it, based on an off the cuff pitch in the tea break.'
Miranda Jane Sen, Screenwriter
'Lucy's weekend made me more aware of structure, than any previous studies.'
Ryan Hewitt, Writer
'Being in the presence of such passionate and knowledgable speakers and delegates reinvigorated my own passion and determination to pursue my dreams.'
Clea Robinson, Reader
'I love being able to go away from a course with a  lot of books to read, websites to visit, films to watch, and things to learn about. Thank You!'
Sarah Giles, Freelance writer & Copy-editor
'This class felt like a family working together.'
Christine Reklaitis, Screenwriter & Reader
'The whole idea that " concept gets people through the door" of the cinema, and not characters, was a real eye-opener and one I can apply to my own work.'
Laila Murphy, Writer
'This course is fantastically content rich - I've learned a lot in 2 days. Lucy's encyclopaedic knowledge of every film ever made the course all the more engaging and relevant. Well done and thank you!'
Laura Baker, (wannabe) TV Script Editor
'Lucy's standing-room only workshops are everything you'd hope for and nothing you'd expect!'
Hunter Gibson, Writer
---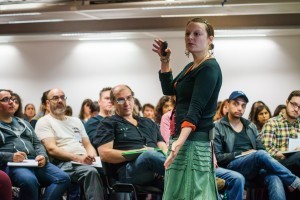 'Absolutely recommend this course if you're looking for insight from a professional who clearly knows the business.'
Hugo Alves, Writer/Director
'This course not only helped me understand how to be a script reader, it showed me how to be a script writer who can connect to an audience. Great atmosphere, great knowledge and great
contacts.'
Daemian Greaves, Filmmaker/Writer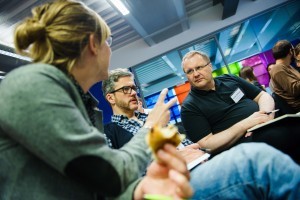 'The event allowed for real networking which led to potential career opportunities. Well worth the time, truly explores the nitty gritty of the job while preparing you to try it for yourself.'
Michael Jennings, Director/Filmmaker
'This workshop has renewed my focus and motivation. I can't imagine not having attended it – it's that good!'
Rapinder Kaur, Screenwriter/Reader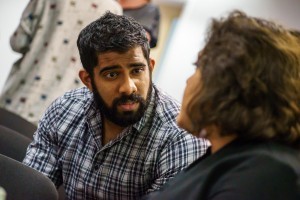 'I didn't dare hope for this level of insight and support, I couldn't be more psyched about my script reading career! I'll be back!'
Lydia Palmese, Novelist
'Lucy is AMAZING!'
Neil Elton, Filmmaker
'Lucy is a total rock star, down to earth, fun but highly knowledgeable.'
Philip Lawrence, Writer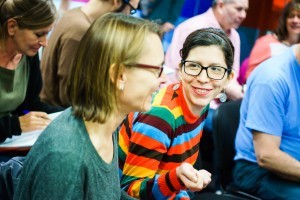 'This course was amazing! Not only did I gain valuable insights but I left feeling motivated and inspired. I felt like Wonder Woman!'
Gannesh Rajah, Creative/Producer
'Lucy is a driving force for improving script reading, and therefore script writing, in the UK.'
Andrew Williamson, Writer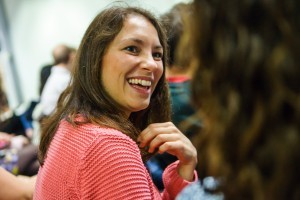 'Potential Script Readers can't afford to not attend this course. Lucy gives a great but realistic view of the script reading/editing world whilst providing useful screenwriting advice. 2 for the price of 1. Thank you!'
Bren Sanders, Writer
'The course has gone over and above my expectations. It has been a real shot in the arm for my creativity.'
Dan Cassell, Screenwriter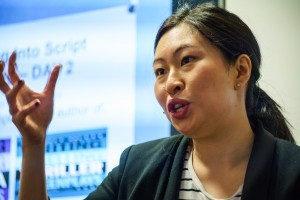 'I have found my USP – thanks. You will see the results on screen!'
Beverley Cooper-Chambers, Writer/Producer
'You have given me the tools to go on another adventure, alongside the writing and filmmaking adventures I am also undertaking and enjoying. Great value for money!'
Penny O'Shaughnessy, Writer/Script Reader
'I wish I had half of Lucy's energy and knowledge of films – fantastic!'
Dee Sidlo, Writer
'Lucy is an exceptional presenter, and has shared her passion with clarity and fizz. Bravo!'
Paul Draper, Writer
'Kickstarted my confidence and provided impetus to stop 'hi-jacking' my own scripts.'
Peter Barker, Writer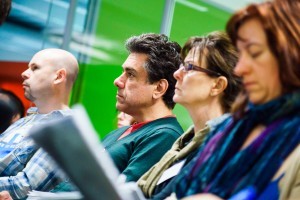 'Amazing networking has given me new ideas and increased motivation. Thanks!'
John Sheldon, Screenwriter
'Lucy really knows her stuff – gritty, frank and blunt – but always fair. I really respect her integrity.'
Jane Campion Hoye, Actor/Writer
'I recommend this course to all writers/readers and filmmakers for the networking opportunities as well as the in-depth knowledge surrounding script development.'
Ruth Trippitt, Script Researcher
'I am now determined to strengthen my relationships with my filmmaker friends, to form a team to actually get things done! This course has clarified a lot of questions I had in my own screenwriting about genre and structure, and I already feel more confident in my writing.'
Vera Juliusdottir, Writer/Director
'Lucy gives a compelling and informative insight into the processes of a Script Reader.'
Daniel Gage, Editor/Aspiring Writer
'The sheer enthusiasm and energy of the speakers really inspired me to take the plunge and make my dreams come true. Writing can be a very solitary and draining experience and the workshop really made you want to have fun with it and MAKE IT HAPPEN!'
Violet Macdonald, Writer
'Big thanks to Lucy Hay and Chris Jones for leading the charge on film professionals working together rather than viewing others as competition. I LOVE that positive spirit!'
Mary Albanese, Writer